Bexley
---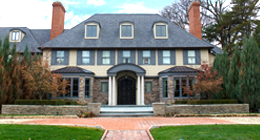 Home to the main campus of and numerous successful educational institutions, Bexley takes pride in their scholars and students. In a city of approximately 13,000 people, the great majority of high school graduates pursue a college career (almost 100% according to The Columbus Region).
Built in the mid-1800s, this historic community charms and delights with its tree-lined streets and variety of housing options from the modest apartments to estate-style living. Want something in between? Take a look at a condo at Bexley Gateway.
Shops, restaurants, and galleries line East Main Street to create a unique small-town atmosphere. For those looking to connect on a deeper level, look to the Bexley Public Library, a variety of churches and synagogues, or the neighboring Trinity Lutheran Seminary.
In March of 2013, the City of Bexley was accredited by the Morton Register of Arboreta, making it the first city in the United States to successfully obtain arboretum accreditation.
Directly east, there is another neighborhood to look into: Whitehall. Back in the 19th century, this town was a stop for stagecoaches traveling along the National Road – yes, a time when there was only one road – with the popular Ye Olde Whitehall Tavern. This small village grew exponentially in the 1950s, but is now known for its 160 acres of parks including John Bishop Park and Whitehall Community Park.
Close to I-70 and only a mere three miles from Downtown Columbus, Bexley is the perfect location for professionals seeking a short commute into the city and minutes away from Port Columbus International Airport.
Take in a movie at the local Drexel Theatre for the Independent film scene as well as International films. Take a tour – or virtual tour – of The Ohio Governor's Mansion.
Looking for something a little upscale? Giuseppe's Ritrovo may be the smooth Italian answer. Of course, one can never go wrong with a traditional cut of meat at The Top Steak House.
Check out fabulous gardens at the annual Bexley House and Garden Tour and the Schnormeier Garden Open House for some of Bexley's neighborhood events. The Fourth of July Events and Fireworks Celebration are always a sight to see. Get there early to enjoy all that this day has to offer, including the John Barr 5k Run at Jeffrey Mansion. On Thursdays throughout the summer, visit the local Farmers Market.
Be sure to check out the Taste of Bexley, one of the Bexley Chamber of Commerce's signature events in October.
The Capital University Christmas Festival in early December is an excellent way to get in the holiday spirit with an array of beautiful music centered on an expertly chosen theme and performed by numerous students, faculty, professional musicians, as well as members of the community.
Hidden gems: Check out the independent coffee roasters at Bexley Coffee Shop. Tailgater's Sports Bar and Grill and Gant's Pizza in Whitehall are hubs for people looking for good times and great food.
Never underestimate the reach of a university in the neighborhood. Capital University has the perfect space for a neighborhood-sized gallery with world-class exhibits. The Schumacher Gallery is free and open to the public. The music department is top-notch with two performance spaces.
Source: Columbus Young Professionals Club