Clintonville
---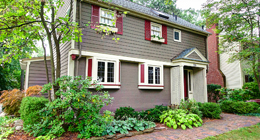 While many neighborhoods throughout Columbus boast certain defining characteristics, a definitive description of Clintonville remains difficult to determine. Young families are drawn to the area, often lured by the excellent selection of high quality schools from parochial to private to a public Columbus City Schools feeder pattern that rivals many of the suburban schools serving residents in the city.
Yet a strong intergenerational current runs through the community, as Clintonville has the highest percentage of senior citizens compared to all residents for any Franklin County zip code.
Clintonville also enjoys a rich appreciation for its history, as evidenced by the gorgeous mural painted along an East North Broadway underpass as part of Columbus' bicentennial celebration in 1987.
People at both ends of the spectrum enjoy Whetstone Park and its renowned Park of Roses, a busy Columbus Metropolitan Library, and a popular Whetstone Recreation Center that is the site of many festivals throughout the year including the Clintonville Arts & Music Festival in September.
However, that respect for history has not impeded progress in Clintonville. The hits keep coming in Clintonville, from a rejuvenated Graceland Shopping Center to The Crest Gastropub, Savor Market, and Savor Growl, all destination locations for anyone looking for fine food and delicious brews.
The appreciation for history, while continuing to evolve, intersects at 4784 North High Street. That's where you'll find  Mozart's Bakery & Piano Café business at the historic building, which once was home to the popular Beechwold Tavern in the 1950s.
Clintonville also embraced its first Wine Bistro and Ohio's first Lucky Supermarket,
Source: Columbus Young Professionals Club