Downtown Columbus
---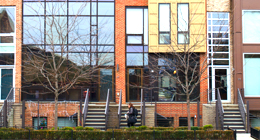 From the Scioto Mile to Columbus Commons to the award-winning baseball stadium to the nationally ranked Columbus Metropolitan Library and Columbus Museum of Art, downtown Columbus is an open and smart, funky and friendly place to live, work and play. 
See yourself in an industrial-style or urban loft? It's all here. Spacious townhome? Absolutely. Luxury penthouse with panoramic view? Of course. 
Experience the urban alleys during Pearl Market, relax in Columbus Commons during summer concerts, play in the fountains along Scioto Mile, and dine in world-class restaurants. Let loose while you shop, boogie down, and feel the vibrancy. It's all here, close to everything – and everybody. You'll never need (or want) to leave.