German Village
---
"Architecture of a close-knit community."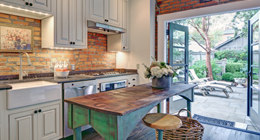 German Village is 233 acres of urban, pedestrian-friendly paradise surrounded by Columbus. In the 1800s, German Village was home to immigrant laborers and craftsmen. Their stories are preserved in the brick streets and the architecture of the buildings and dwellings they left behind. Today's German Village is where the old and new mashup in a vital urban community of city leaders, artists, entrepreneurs, young professionals, and their families.
The best way to enjoy the brick streets, wrought iron fences, story-and-a-half brick cottages, Dutch Doubles, and community parks is by foot. Who wouldn't want to take their lunch break at some of the city's top eateries, or take a break from your desk to wander German Village's two city parks? Privileged to be home to the city's second oldest city park, Schiller Park,  and the beautiful pocket-sized oasis called Frank Fetch Park, both parks feature magnificent gardens and plenty of activities. Every third Sunday of the summer in Frank Fetch Park, there are free concerts, plus free movies planned on a blow-up screen. Or spend Thursday-Sunday nights all summer with free Shakespeare in Schiller Park.
You will discover a variety of one-of-a-kind, locally-owned boutiques, specialty stores, salons, galleries, restaurants, and service businesses clustered throughout the area. Stay at the nationally reviewed German Village Guest House. Don't miss the nation's oldest craft store, Helen Winnemore', one of the nation's largest independent (and most unusual) bookstores, The Book Loft, or the top-rated Zagat eatery, Pistacia Vera. For a taste of German hospitality, there's Schmidt's Restaurant und Sausage Haus and Juergens German Bakery. And let's face it, central Ohio's restaurant scene would not be complete without Lindey's, Barcelona, G. Michael's, Harvest Pizzeria and The Sycamore – and they're all clustered here in our 233 acres!
German Village is fortunate to be home to the Midwest's most-accomplished chefs and restaurants. It is a great place to explore on an empty stomach. The best part about living, working, and playing in German Village are the people. While it contains some of Ohio's best shops and restaurants, along with charming architecture, it is the people who really make German Village what it is.
You get all of the neighborliness of a small town just eight blocks from city center. And when this community pitches in to get something done – like restore and protect the brick-lined streets or promote pedestrian lifestyle – you'll have hundreds of volunteers at the ready. German Village is every walk of life working to make the community better. In short, characters are welcome. 
Source: Columbus Young Professionals Club