Grandview Heights
---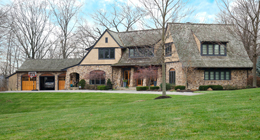 Grandview Heights (often just called Grandview) – made up of less than two square miles of quaint homes on tree-lined streets – is filled with park space, an award-winning library and amazing school system. Well-known throughout central Ohio as the best destination for unique dining experiences, the restaurant scene is incomparable – with independently-owned eateries specializing in just about any cuisine one can desire. You won't go hungry here. Boutique shopping and upscale consignment stores are unparalleled. You can spend a day filling your bags without emptying your wallet.
Grandview is located within two miles of downtown Columbus, as well as The Ohio State University, Battelle Research Institute, and TechColumbus. With all of the resources surrounding these neighborhoods, it is a close-knit community that has everything needed at your fingertips. And, access to all of the major interstate systems is less than a mile from the center of the city. Accessibility plays a major role in the ability to attract businesses to this fantastic community.
Krema Nut Company, established in 1898 honors old fashioned hand roasting methods to make their nut varieties and all-natural nut butters. They have been featured on Mr. Rogers Neighborhood, and Food Network's Unwrapped and Food Finds. Watershed Distillery, a local micro-distillery that produces high quality, great tasting vodka, gin, and whiskey. You can take a tour AND take a sip or two. Speaking of sipping, Stauf's Coffee, one of the oldest businesses – next to Spagio don't miss that either – on Grandview Avenue in the historic bank block. Stauf's roasts their own beans for the freshest coffee, serves up local baked goods and is THE place to be seen. Ohio Tap Room specializes in over 20 Ohio craft beers sold in growlers of various sizes. They also serve other Ohio goodies, but craft beer is their specialty.
The best part about living, working, and playing here is that you can walk everywhere. You can shop, eat, and enjoy attractions while being green by walking or biking around the city in a vibrant, safe environment. With so much to offer, you'll want to come back again and again.
The annual festival line up will keep you entertained all summer long! It begins with the Grandview Hop each May and is hosted the last Saturday of each month May-August. Grandview Avenue is lined with entertainers, craft and specialty vendors, and food trucks. They complement the already vibrant Avenue merchants and restaurants. In June, the streets of Grandview Yard are packed with thousands of lively revelers for Digfest, where micro-distilleries, micro-breweries, and wineries all from central Ohio are celebrated and sampled. Also in June is the Tour de Grandview, central Ohio's premier bike race that has taken place for over 20 years! Finally, don't miss the annual Taste of Grandview in September, highlights the neighborhood's unique restaurants and their specialties. It's fun for the entire family.
Source: Columbus Young Professionals Club