Italian Village
---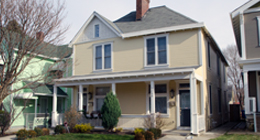 Italian Village is a mixed land use neighborhood in Columbus, Ohio that contains an array of residential, commercial, and industrial buildings. It is a designated historic district, known for its historical and cultural preservation.
Italian Village is undergoing a rapid transformation that is redefining and expanding the neighborhood. The neighborhood's western edge includes the Short North, which is booming and pricey. That makes Italian Village the next obvious step.
Everywhere you look, new housing is rising from long-vacant lots that dotted the neighborhood just north of Downtown.
The expansive Jeffrey Park is one such development. Also, 66 apartments were built inside an old bakery to create the Wonder Bread Lofts. And numerous houses throughout the area are being constructed or remodeled.
New housing isn't the only change. Fox in the Snow Cafe occupies a masonry building. A craft brewery, Seventh Son, has operated for almost two years in the former body-shop building. A tony grocery-restaurant, The Market Italian Village, draws customers into what was once a run-down carryout. Other popular destinations are Cray Eatery and Drinkery and the Little Rock Bar.
With its parks and preserved historic homes, Italian Village has the highest home value appreciation in Columbus. Italian Village is part of the Short North area. The neighboring Downtown District provides access to major employers, cultural and learning institutions, and entertainment venues.