Olde Towne East
---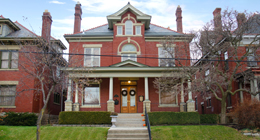 One of Columbus' oldest neighborhoods, Olde Towne East (OTE) is a neighborhood located between Downtown Columbus and Bexley. Known for its turn of the century homes, the area has over 1,000 residencies. No matter what your budget, OTE offers historic apartments and new condos, all with architectural character. This up-and-coming urban neighborhood is a place where the neighbors are diverse and accepting, with residents from start-up families to millionaires. Within walking distance, there are restaurants, galleries, and shops that are sure to fulfill your need for Columbus culture.
In addition to the accessibility of Interstate 71 and bus routes, the ample amount of parking makes a commute to and from OTE nearly stress-free. The businesses in OTE tend to be smaller and entrepreneurial, largely due to the size and historical nature of the buildings. Many small start-up businesses become quickly successful here because of value-priced real-estate and their community impact. The Columbus Foundation, Columbus Health Department, and The American Red Cross of Greater Columbus also call OTE home.
Originating as an extension of their farm, Black Creek Bistro serves fresh, local food at affordable prices, while following sustainable practices such as composting. They give back to the community by purchasing from businesses and farms within Ohio, partnering with artists and schools, and dedicating a building on their farm to biodiesel production. While traveling down Oak Street, get your local pizza fix at Yellow Brick Pizza, drink beer at Tavern Olde Towne's spacious outdoor brick patio, or grab some 100 percent, made-from-scratch baked goods from The Angry Baker.
For a unique coffee experience, try Upper Cup Coffee Co. – inspired by Eritrean tradition – where coffee is an integral part of the culture. In addition to drinking and dining establishments, Olde Towne East also offers several cultural destinations, including The Roscoe Room Fine Arts Studio, CS Gallery, local music venue Cara Bar on Parsons Avenue, and The Summer Tour of Historic Homes.
It is an easy walk or bike to downtown venues and events, less than a mile away, next to the Discover District and Columbus College of Art & Design (CCAD), adjacent to the Alum Creek bike paths and magnificent Franklin Park Conservatory. And if you need to use your car, OTE is next to I-70/71.
One of the newest hidden gems is an event titled Music in the Garden. Sponsored by OTENA, it is held in the OTE garden at the corner of Oak and Garfield three times in the summer. It's a free concert with a variety of musicians playing in the neighborhood garden. Neighbors and visitors just bring a chair or blanket, food and drink, maybe some wine, and enjoy the sounds of a Sunday evening. It's a family-friendly event where kids and adults mingle and have great time.
Neighborhood events to experience include the 31st annual Tour of Historic Homes, a walking tour of historical homes and gardens every second Sunday in July, and Hot Times in Olde Towne Festival every second weekend in September, held on lawn of the Columbus Health Department grounds on Parsons and Main.
Source: Columbus Young Professionals Club