Short North
---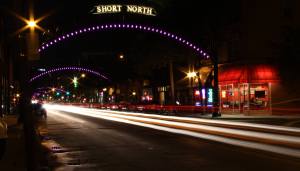 The internationally acclaimed Short North Arts District is known as Columbus' "art and soul." For the last 30 years the culturally rich community has pioneered the urban revitalization of central Ohio. Always welcoming, all are invited to explore this area known for its eclectic art, dining, nightlife, fashion, home décor, and unique gifts.
Walk outside your door and you are steps away from galleries with a wide-range of art to add to your growing collection, as well as many of the city's finest restaurants and dozens of one-of-a-kind shops offering fashion, home décor and unique gifts. You never have to leave the Short North to find what you need. And housing? The neighborhood boats an abundance of condos, century old houses, and new apartments. It's your choice. The neighborhood is diverse, warm, and accepting.
The Short North is truly home to Columbus' creative class, including entrepreneurs building their businesses in this vibrant urban district. Whether artists, designers, retailers, photographers, or inventors – they are all here and draw on each others' creativity to make this place extraordinary. The energy is infectious and just makes you feel alive.
The Hub is a mixed-use development at the corner of Hubbard Avenue and North High Street featuring retail and restaurant on the first floor, and apartments on the upper floors. Situated on the north side of the Short North, The Jackson is convenient to historic neighborhoods like Italian Village and Victorian Village. And Jeffrey Park is a new development of apartments and townhouses on over 40+ acres of land on the original site of The Jeffrey Manufacturing Company in Italian Village.
Established by the unique businesses and entrepreneurs that comprise the district, the bohemian Short North offers something of interest for residents and visitors with its 200+ experiential destinations. (With so many special places to visit, we simply can't highlight them all. Check out ShortNorth.org.) Then come down to explore the area for yourself. The Short North has something to offer everyone.
With so much happening and hopping in the Short North, you've got to experience all of the amazing and art-friendly neighborhood events:
Gallery Hop occurs on the first Saturday of each month. Thousands of visitors converge in the neighborhood to see new art exhibits and experience Short North ambience at its best. With dozens of galleries and nontraditional exhibit spaces, it's Columbus' favorite night of the month. Most shops open earlier than the official start time of 4:00 p.m. – running up through 10:00 p.m. – with restaurants and bars staying open considerably later.
The annual Short North Summer and Winter Sales (January and July) are your opportunities to get super savings from your favorite district retailers in fashion, home décor, specialty retail, art, music, vintage, and consignment. You name it and it can be found here! A day-long treasure hunt – Short North Yard Sale (first Saturday in June) – takes place in the neighborhoods in and around the Short North, including Victorian Village, Harrison West, Italian Village, Dennison Place, and The Circles. More than 150 homes participated in last year's sale, making it the largest neighborhood yard sale in Columbus.
The largest pride event in the Midwest – the Columbus Pride Parade & Festival – is held in Goodale Park in June. With its Pride Patio, Family Area, over 180 vendors, and multiple music stages, the festival steps off with the Pride Parade. Also hosted in Goodale Park, Comfest is a three-day festival – held the last weekend every June – bringing together alternative politics, arts & crafts, music and reunions with old friends and introductions to new ones. It draws tens of thousands from throughout central Ohio and far beyond.
Every Columbus Day Weekend, Columbus plays host to the Columbus Italian Festival, presented by Saint John the Baptist Italian Catholic Church. It's a celebration of local Italian-American culture. Among the features are live entertainment, open-air markets, Italian dancing, a children's area, and plenty of fabulous Italian food – including a pizza cook-off
Savor the sights, sounds and flavors of Greece at the annual Greek Festival, held at the ornate Annunciation Greek Orthodox Cathedral on Labor Day weekend. This popular end-of-the-summer event features traditional dancing, music, and authentic Greek fare including freshly baked baklava.
Source: Columbus Young Professionals Club