Westerville
---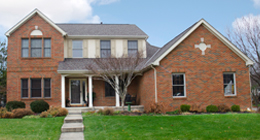 Westerville offers the best of old and new to its residents, businesses, and visitors. Visiting and shopping in the Uptown area provides a glimpse back at simpler times with its charming architecture, refurbished storefronts and historic brick buildings that line State Street and several side streets that make up the heart of Uptown Westerville. Westerville includes an award-winning library, 46 parks, the 10th largest school district in the state, Otterbein University, and incredible health care facilities operated by three of the main health care industries in Central Ohio.
Located north of the I-270 outerbelt, Westerville is just 15 miles from downtown Columbus. The Central Ohio Transportation Authority (COTA) provides affordable, clean bus transportation throughout Columbus and its suburbs. Westerville is also located between two nationally renowned shopping malls – Easton Town Center and Polaris Fashion Place, providing easy access to Westerville from the I-71 Polaris exit.
You won't want to miss out on Cheryl's Cookies, Giammarco's Pizza & Pasta or BelLago Waterfront Dining. Uptown Westerville is filled with eclectic shops, restaurants, and local art that rivals any of the neighborhood destinations in Columbus.
Uptown Shuffle features an Amazing Race-style scavenger hunt among Uptown Westerville businesses in June, beginning at Old Bag of Nails Pub. The annual Westerville Area Chamber Music & Arts Festival at Heritage Park and Everal Barn is another great event. The festival features over 130 fine arts and craftspeople, live entertainment from two stages, youth exhibits, activities and entertainment, delicious food and a silent auction. The Westerville Visitors & Conventions Bureau hosts Fourth Friday Festivals April through September in Historic Uptown Westerville from 6:00 – 9:00 p.m.
Westerville Parks and Recreation allows the Westerville community to be a very healthy and active community. The city has received numerous awards for quality of living like the Healthy Ohio Platinum Award in 2012.