Worthington
---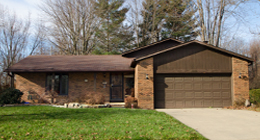 This historic neighborhood was named after the sixth governor of Ohio, Thomas Worthington, in 1803. The landscaped and walkable streets and the unique businesses add to the already vibrant scene. As with nearly every neighborhood, it is separated into Worthington and the historic Old Worthington where numerous buildings have been restored and preserved or renovated for a variety of uses. The hustle and bustle of visitors and residents keep things lively.
Outside of the downtown area, the housing options are ample surrounded by over 13 parks totaling 221 acres of green space. Only nine miles from downtown Columbus, Worthington provides a perfect balance of park to city and is close to three of the major roadways, I-270, I-71 and Route 315.
The Village Green is home to park-goers, summer festivals and the popular Concerts on the Green concert series. The McConnell Arts Center provides opportunities to experience art, take a class, or hear music in their performance hall.
Worthington is perfect for the foodie at heart. The historic Worthington Inn provides a top-notch dining experience. From P.K. O'Ryans, a traditional Irish pub, to The Wine Bistro and Hyde Park Prime Steakhouse, there is something for everyone. 
Saturday morning early birds can visit Farmers Markets on the Village Green from May to October, giving locals time to slow down and pick their own produce. The Worthington Arts Festival is rated one of central Ohio's finest art shows and takes place in mid-June. Old Worthington Market Day in mid to late September is the neighborhood's biggest event bringing in over 250 vendors for this one-day festival. 
For the garden lover, the Worthington Historical Society Tour of Homes and Gardens will be a great change of pace on mid-July. Fitting to this foodie culture, the Taste of Worthington is held in mid-July and brings in around 5,000 people. In late July, Treasures on the Green offers the chance to bring out the flea market style shopping experience.